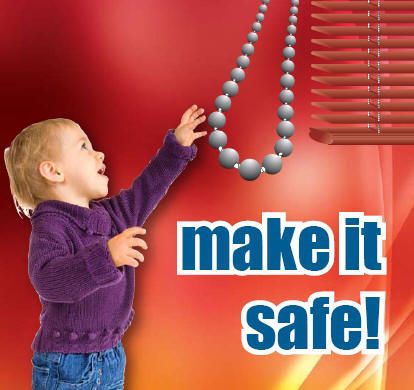 Child Safety is paramount in our minds with every blind that we sell. As standard we supply free of charge child safety fitting for every blind and stronly we encourage you to fit them They are designed to help prevent cords or chains from posing a potential hazard.
Through the Make It Safe campaign by The Royal Socity for the Prevention of Accidentin conjunction with the BBSA , we 'Make it Safe' Initiative we are commited to helping to give you peace of mind, leaving you free to enjoy your new window blind.
Please follow the advice provided below:
Do not place a childs cot, bed, playpen or highchair near a window.
Pull cords on curtains and blinds should be fitted within a child safe housing or tie up loose cords out of each of children using the many type of cleats or cord tidies that are available.